Master the Art of Bedroom Design: Creative Master Bedroom Ideas
Your bedroom should be a haven of peace and quiet where you can recharge and recover from the stresses of everyday life. It's the place where you start and end each day, therefore it should be designed and decorated with care. Whatever the size of your master bedroom, from a sprawling suite to a tiny bedroom, we have a ton of different ways you can decorate it to make it seem more like a retreat.
Table of Contents
Start with a Clear Vision
If you're planning on renovating your master bedroom, you should have a plan before you get started. Consider the mood you want to set and your personal taste in decor. Do you like a classic, homely vibe, or a more contemporary, minimalist one? Each step of the design process will be determined by your concept.
Choose a Soothing Color Palette
The atmosphere of your master bedroom is determined by the colors you choose. Think of calming hues like light blues, sage greens, and neutral tones. These tones are ideal for winding down before bed. Accents, like throw cushions and artwork, may help offer a splash of color.
Invest in Quality Bedding
Your bed is the focal point of your master bedroom. Invest in high-quality bedding for ultimate comfort. Opt for luxurious sheets, plush pillows, and a comfortable mattress. Don't forget to add layers with a cozy throw blanket and decorative cushions.
Create a Cozy Reading Nook
If you have some extra space in your bedroom, consider creating a cozy reading nook. Add a comfortable chair or a window seat with a view. A small bookshelf and good lighting will complete this retreat for book lovers.
Statement Headboard
A statement headboard can transform the entire look of your bedroom. Whether it's a tufted fabric headboard, a wooden one, or even a DIY project, this element can add character and style to your space.
Adequate Storage Solutions
Clutter can disrupt the tranquility of your bedroom. Invest in practical storage solutions like built-in closets, under-bed storage, or stylish dressers to keep your space organized and serene.
Embrace Natural Light
Natural light can make any room feel more inviting. Install sheer curtains or blinds to allow soft, diffused sunlight to fill your bedroom during the day. Consider large windows or even a skylight if possible.
Personalized Wall Art
Add a personal touch to your master bedroom with wall art. Whether it's family photos, artwork, or a beautiful mirror, these decorative elements can make your space feel unique and special.
Layered Lighting
Good lighting is essential in a bedroom. Combine ambient lighting with task lighting and accent lighting to create a layered effect. Consider bedside lamps, a chandelier, or wall sconces to enhance the atmosphere.
Luxurious Fabrics
Incorporate luxurious fabrics like silk, velvet, or faux fur to add texture and elegance to your master bedroom. These fabrics not only look great but also feel wonderful against the skin.
Incorporate Nature
Bringing nature indoors can create a calming atmosphere. Consider adding indoor plants, a small fountain, or nature-inspired decor to connect with the outdoors.
Customized Closet
Make the most of your storage area by installing a built-in wardrobe. This will not only help you maintain your wardrobe neat and tidy, but it will also give your bedroom an air of refined elegance.
Coordinated Decor
Ensure that all your decor elements, from bedding to curtains to furniture, are coordinated in terms of color and style. This will create a cohesive and visually appealing look.
Smart Bedroom Technology
Enhance your master bedroom's convenience with smart technology, including smart lighting, temperature control, and a voice-controlled assistant.
Regular Maintenance
Regular maintenance is crucial for maintaining the serenity of your master bedroom, ensuring it is clean and clutter-free.
In conclusion, your master bedroom should reflect your personal style and provide relaxation. By following these bedroom ideas, you can transform your space into a sanctuary, allowing you to escape daily stress and master the art of bedroom design.
---
FAQs
Q: How can I make a small master bedroom feel more spacious?
To make a small master bedroom feel more spacious, use light colors, minimize clutter, and incorporate mirrors to create the illusion of space.
Q: What is the best lighting for a master bedroom?
The best lighting fixtures for a bedroom include a combination of ambient, venture, and accent lighting fixtures. This creates a heat and alluring atmosphere.
Q: How do I choose the right color palette for my master bedroom?
When choosing a color palette for your bedroom, don't forget your non-public preferences and favored environment, with soft, soothing colors being an appropriate preference.
Q: What are some budget-friendly master bedroom makeover ideas?
Budget-friendly master bedroom makeover ideas include repainting, rearranging furniture, adding new bedding and decor, and DIY projects like creating your own headboard.
Q: Is it essential to hire a professional designer for a master bedroom makeover?
Hiring a professional designer can be beneficial, but many people successfully design their master bedrooms themselves by following design tips and inspiration from various sources.
Exploring the World of HomeGoods: Enhancing Your Home, One Furnishing at a Time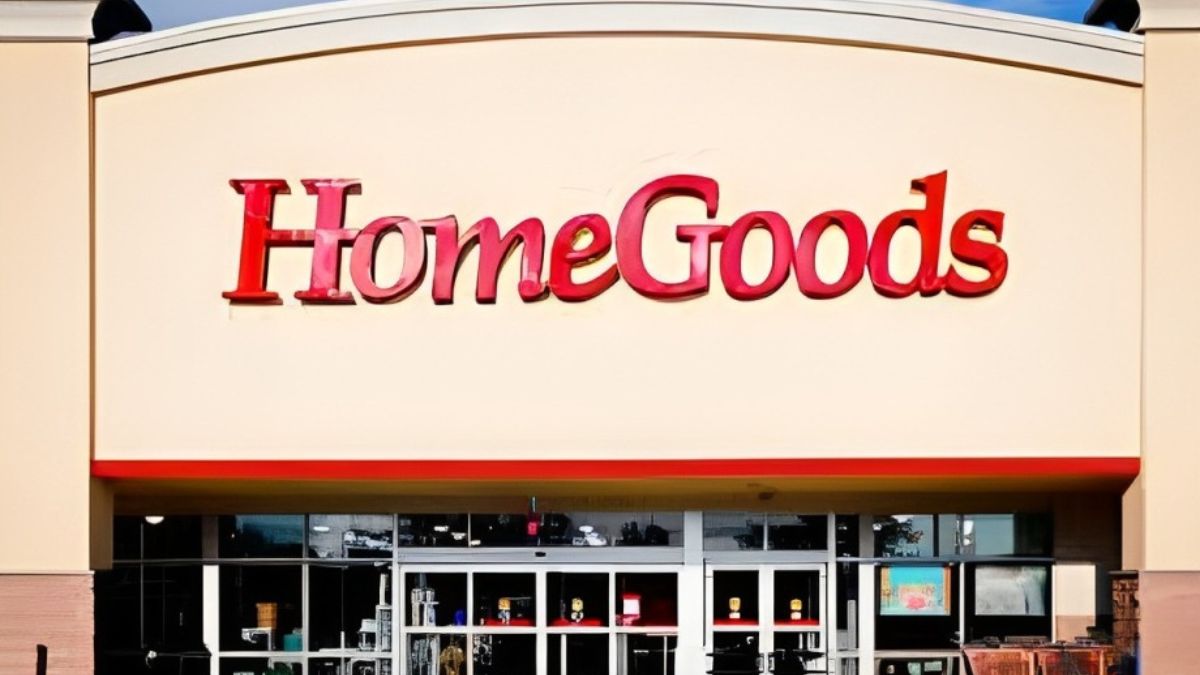 Welcome to the world of HomeGoods, a chain of home furnishing stores headquartered in Framingham, Massachusetts, that has been transforming houses into homes for decades. In this article, we will delve into the enchanting realm of Home Goods, exploring its history, product offerings, shopping experience, and why it stands out in the world of home décor and furnishings.
Table of Contents
A Legacy of Quality and Style
HomeGoods, established in 1992, has constructed an illustrious legacy of imparting notable and elegant domestic fixtures to clients across the USA. With over 800 stores in the US, it has come to be a go-to vacation spot for people looking to revamp their living spaces.
Unveiling the Treasure Hunt Shopping Experience
Home Goods offers a unique treasure hunt shopping experience, offering an ever-changing selection of home furnishings, décor, and accessories, unlike traditional retailers. This approach ensures an exciting adventure for each visit, with new and enticing items waiting to be discovered in every aisle.
Diverse Range of Products
HomeGoods offers a wide variety of products, catering to various tastes and styles, including modern minimalism, classic elegance, and eclectic charm. They offer furniture; kitchenware, bedding, and wall art, ensuring customers find something that suits their personal aesthetic.
Affordable Luxury
HomeGoods has a collection that can compete with upscale stores, but it really stands out because of its low prices. You don't have to go into debt to experience the opulence of imitation designer goods. Thanks to Home Goods' affordable prices, you may spruce up your abode without breaking the bank.
The Joy of Home Decor
Let's take a deeper look at a few of the most important product groups that Home Goods has to help you spruce up your dwelling:
Furniture Finds
HomeGoods has a wide selection of affordable furniture perfect for every area in your house, from statement pieces for the living room to comfy accent chairs for the bedroom. You may furnish your home in a variety of styles, from minimalist contemporary to country chic.
Kitchen Essentials
Kitchens are the heart of any house, and Home Goods knows this by stocking a wide variety of cookware and other kitchen necessities. They provide everything you need, from pots and pans to specialty tools, to create gourmet meals with flair.
Bed and Bath Luxuries
HomeGoods has everything you need to make your bedroom into a relaxing retreat. Create a relaxing haven with the help of sumptuous bedding, a warm blanket, and fluffy towels.
Wall Art and Decor
Wall art and other decorative accents from Home Goods are a great way to put a unique stamp on a room. You may locate artwork that suits your taste, whether it's abstract paintings, old prints, or ornate mirrors.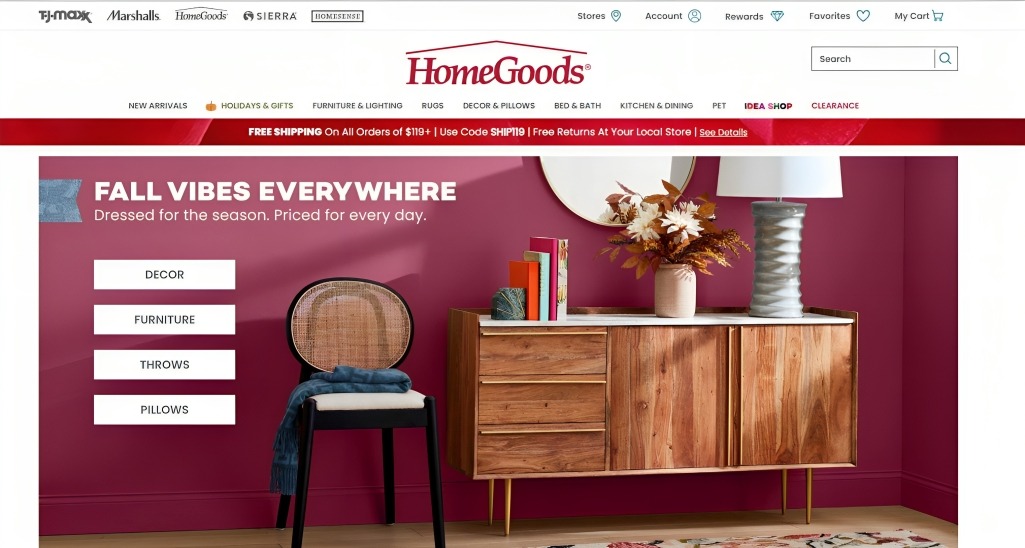 The HomeGoods Shopping Experience
Shopping at HomeGoods is greater than simply acquiring domestic decor; it's an experience. Here's what you could anticipate when you step into one of their stores:
Ever-Changing Selection
HomeGoods is known for its ever-changing selection. This makes each visit exciting and unpredictable since you never know what kind of unusual findings you could come upon.
Expertly Curated Displays
HomeGoods is proud of its retail designs, which feature carefully chosen displays that highlight how its items may be used together to make a beautiful home. The equivalent of a free course in interior decoration!
Friendly and Helpful Staff
HomeGoods' staff is friendly and knowledgeable, providing guidance on product selection and helping customers navigate the store to find what they need.
Conclusion
In conclusion, HomeGoods is more than just a chain of home furnishing stores; it is a destination for people who searching to enhance their living spaces with high-quality and fashion. With its ever-converting selection, affordability, and dedication to customer satisfaction, HomeGoods has earned its area as a cherished family call.
FAQs
Q: Is HomeGoods only available in Massachusetts?
No, Home Goods has over 800 stores across the United States, so you can find one near you.
Q: Do they offer online shopping?
Yes, Home Goods offers online shopping, making it even more convenient to explore their products.
Q: What is the price range of HomeGoods' products?
Home Goods gives an extensive range of merchandise to match diverse budgets, from lower priced to extra high-quit options.
Q: Can I return the items if I change my mind?
Yes, Home Goods has a go-return policy that lets you go back to objects within a sure timeframe in case you're not happy with your buy.
Q: Do they have a loyalty program for frequent shoppers?
Yes, Home Goods offers the "TJX Rewards" program, which provides benefits and rewards for loyal customers.
Party Rentals Near Me: Turning Your Event into an Unforgettable Celebration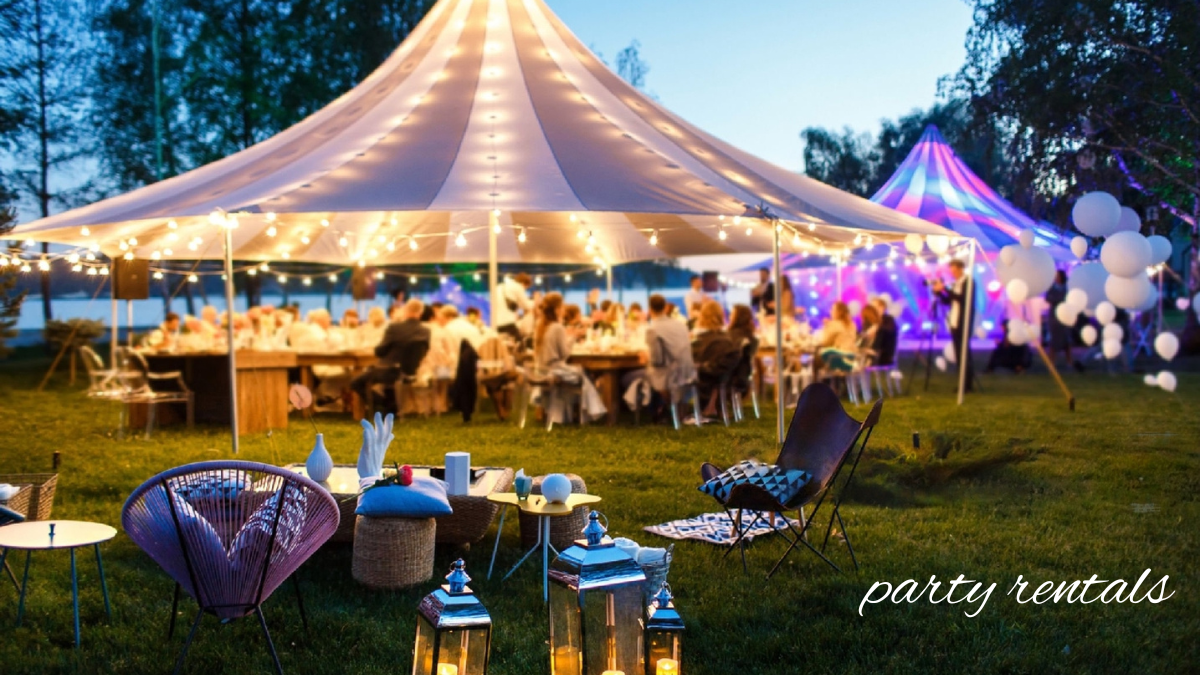 The thrill and stress of party preparations go hand in hand. The correct theme, catering, and entertainment are just a few of the many things that must be planned. The choice of party rentals is a pivotal factor that may make or ruin your event.
Table of Contents
Finding the Perfect Venue
Determining the Location
The first step in planning any kind of event is selecting a location. Decide what sort of party you want to hold and how many people you expect to attend as a first step. To spend time indoors or outdoors? Wonderful possibilities await you at local community centers, public parks, and even your own garden.
Choosing the Right Size
Once you've settled on a place, the next step is to pick a facility that's enough for your guest list. Some organizations that rent out locations for parties have both tiny rooms and large halls available.
Essential Party Rentals
Tables and Chairs
You can't have a party without tables and chairs. Make sure you rent enough chairs for all of your visitors. You may create a more personal setting by using circular tables, or a more celebratory one by using large banquet tables.
Linens and Decor
The addition of fine linens and ornamentation elevates your gathering. Pick up linens, coverings for chairs, and other embellishments that go well with the overall concept and color palette. Add some pizzazz with table runners, floral arrangements, and chair sashes.
Tents and Canopies
Tents and canopies provide much-needed protection from the weather for gatherings held outside. As a bonus, they provide welcome shade on hot days and help provide a warm, inviting tone.
Dance Floors and Staging
Renting a dance floor and stage is a good idea if your celebration will feature dancing and/or performances. This will add a level of professionalism to your event and allow your visitors a place to show off their dance skills.
Entertainment and Fun
Inflatables and Games
The kids at your party will be amused for hours with inflatable bounce houses and activities. They are available in a wide range of sizes and styles, making them suitable for use by people of all ages.
Photo Booths
Rent a photo booth to remember the occasion. It's a great opportunity to give your guests something unique and memorable to remember the occasion by.
Audio and Visual Equipment
Renting audio and video equipment is a good idea if your party will feature presentations or music. Sound systems, projectors, and displays of a high caliber may significantly improve the viewing or listening experience.
Catering and Refreshments
Food and Beverage Stations
Have a selection of beverages and snacks available for your guests. You may serve yourself if you like, but if you want things to seem more put together, catering is certainly an option.
Bar and Bartenders
A bar and skilled waiters are essential elements for any event catering to adults. They can make specialty drinks and make sure everyone has a good time.
Safety and Convenience
Restrooms
Don't forget the significance of having a bathroom nearby. You can make sure your visitors are comfortable and have a pleasant time at your event by renting portable toilets.
Lighting
Having the right lighting for your party is especially important in the evening. If you want to give your event a magical feel, hire some string lights, candles, or uplighting.
Conclusion
In conclusion, if you want your party to be talked about long after it's over, you should give serious thought to the numerous party rentals available. Every element of your event, from the location and necessary rentals to the entertainment, cuisine, and security measures, contributes to making your special occasion one to remember.
FAQs
Q: How do I find the best party rental companies near me?
Search online, talk to people you know for referrals, and read reviews to locate the finest local party rental providers. Make a well-informed choice by contrasting their services, costs, and reviews.
Q: What should I consider when renting a venue for my party?
When renting a venue, consider the location, size, amenities, and rental policies. Ensure it aligns with your event's theme and meets the needs of your guests.
While most reputable party rental companies are transparent about their pricing, it's essential to clarify all costs upfront. Ask about delivery fees, setup charges, and any potential damage fees to avoid surprises.
Q: How far in advance should I book party rentals?
It's advisable to book party rentals at least a few months in advance, especially for popular dates. This ensures that you have access to the equipment and venues you desire.
Q: What measures can I take to ensure the safety of my guests at the party?
To ensure your guests' safety, rent items like tents, canopies, and restrooms if necessary. Also, consider providing designated drivers or transportation options for those who may consume alcohol.
The Art of Pot Design: Elevating Your Green Space with Style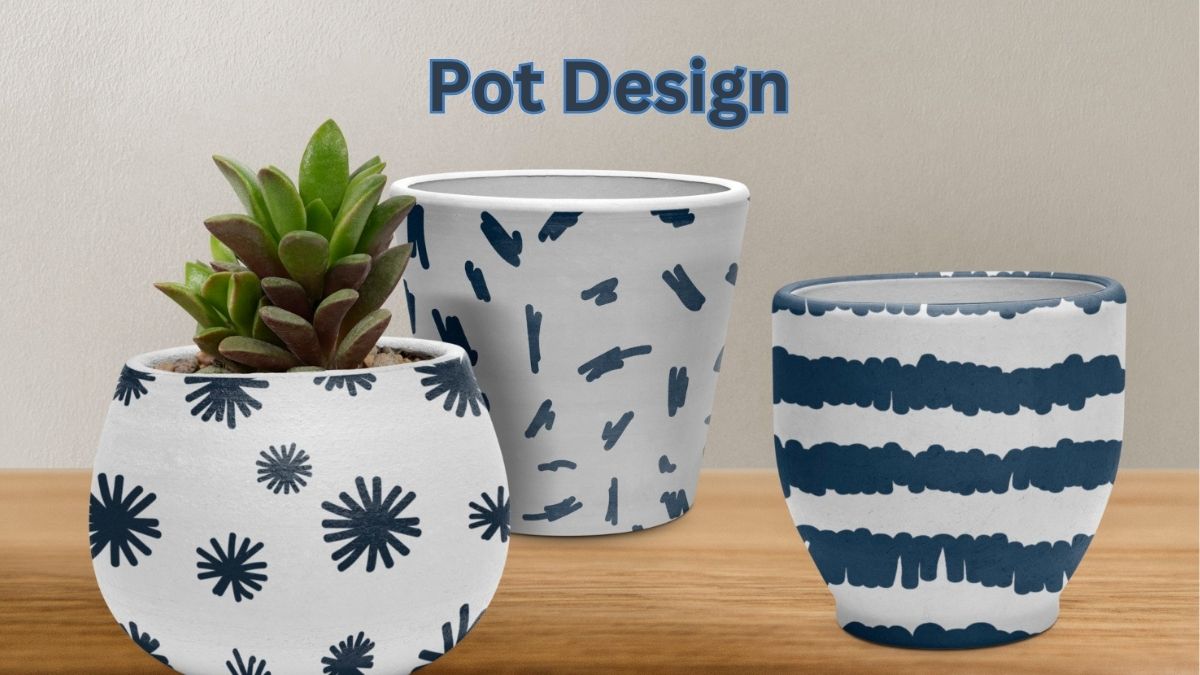 The aesthetic value of a garden's planting containers cannot be overstated. The choice of containers may have a major influence on the appearance of any garden, balcony, or interior plant collection. To help you turn your home into a botanical masterpiece, we'll dig into the realm of pot design, discussing various designs, materials, and helpful hints.
Choosing the Right Pot
Choosing the ideal container for your plants is the first step in creating a beautiful pot design. When making this choice, it's important to take into account a number of factors:
Material Matters
Terracotta: Timeless in their appeal, terracotta pot design are prized for their earthy aesthetic and natural ability to control moisture levels. Succulents and other plants that like soil with good drainage will thrive in them.
Ceramic: Ceramic pot design may be used inside or out, and they come in a broad variety of colours and designs. Their visual attractiveness is a major factor in their selection.
Plastic: Larger plants that are difficult to transport benefit greatly from being placed in plastic pot design due to their light weight and low cost. They might not be as aesthetically pleasing as other materials, though.
Wood: Wooden containers, especially those crafted from cedar or redwood, give your garden an earthy, natural look. They last a long time, but they need regular upkeep.
Metal: Metal containers, such as those constructed of copper or stainless steel, have a sleek and sophisticated industrial vibe. They can withstand the elements and last a long time.
Size and Shape
Think about the plant's root system and how it will develop in relation to the size and form of the pot. Root development can be stunted by a pot design that is too tiny, and overwatering can occur if the pot is too large.
Drainage
Waterlogging is detrimental to plant health, so make sure your pot design have adequate drainage holes. If your preferred container needs drainage holes, you could drill them yourself.
Pot Design Styles
Now that you know what to look for, let's have a look at some different pot design styles that will improve your garden:
Classic Elegance
Traditional planters in earthy tones like terra cotta, white, and cream are always appropriate. They go nicely with many other plants and look natural wherever.
Modern Minimalism
Choose modern, geometrically designed containers made of metal or concrete for a chic aesthetic. These containers are characterised by their minimalist design and single colour.
Rustic Charm
A touch of rustic elegance may be added to your landscape by using wooden barrels, crates, or repurposed wood pots. These old-fashioned styles complement country cottages really well.
Boho Chic
Use colourful and patterned pots to express your individuality. Bohemian-style planters can infuse any room with a sense of vitality and independence.
Artistic Flair
Think of vases that are pieces of art in and of themselves. You may make a handcrafted pot, mosaic planter, or sculptural planter the showpiece of your yard.
Conclusion
An attractive pot is more than simply a functional addition to your garden or patio. You may make your yard or indoor plant collection into an eye-catching refuge by carefully considering the materials, size, shape, and style of your plants. The correct container may help you cultivate a plant masterpiece that speaks volumes about who you are. Have fun planting!
---
FAQs
Q: How do I choose the right pot size for my plant?
The roots of the plant need air and at least an inch or two of space from the pot's sides, so choose a pot accordingly. If you're not sure what size pot to choose, err on the side of caution and watch how your plant develops.
Q: What should I do if my pot doesn't have drainage holes?
If your container doesn't have holes for drainage, you can make some using a drill. For efficient water flow, the hole diameter should be at least a quarter of an inch.
Q: Can I use decorative pots indoors?
Indoor usage of ornamental pots is permitted. However, use caution while working with substances that aren't suited to indoor environments, such as corrosive metals.
Q: How do I maintain wooden pots?
A wood sealant can be used to protect wooden containers from moisture and environmental damage. Maintain their attractiveness by resealing them on a regular basis.
Q: What's the best way to clean ceramic pots?
You may use a solution of water and vinegar or mild dish soap to clean ceramic pots. Before repotting your plants, give them a little brushing, a good rinsing, and a full drying out.